OK, lets throw it out there quickly
*MAJOR SPOILER ALERT*
Woah, woah, woah, woah, WOAH.
Hold on, last Saturday I FINALLY finished Gossip Girl and I still don't think I'm quite back to my normal mentality just yet.
Since watching the finale on Saturday, I have not stopped thinking about it and I just had to re-watch it again last night. The only way I can describe how I'm feeling is a little like a clingy ex-girlfriend that just can't quite let go yet...yano? Chuck Bass you absolute beaut of a human being, you need to marry me right now.
So firstly let's talk about who Gossip Girl really is.
When I found out that Dan was Gossip Girl I wasn't overly surprised, I wasn't disappointed with the outcome, nor shocked. As soon as it was revealed I had a moment of "oh god, that makes so much sense now, why didn't I guess this before?" I clearly had no clue, but I liked to think for a minute or two that I did! Towards the end of season 6 I was beginning to really dislike Dan, and I think the truth of him being Gossip Girl made me actually like him more than ever!
I really enjoyed the last episode in that they bought back the likes of Little J (Jenny Humphreys), Serena's younger brother - Eric Van Der Woodsen, and even Vanessa came back for the last episode! I really was so glad to see these come back for the big ending event that was Serena and Dan's wedding, which don't get me wrong was great, it was lovely, it was sweet, and it was completely expected. Yawwwwwwn!
So now we have that out of the way, lets talk about the real point of this post. The real reason I watched all 6 seasons of Gossip Girl. The story at the heart of the show that kept me gripped and made me stay up late for too many nights in row... Chuck Bass and Blair Waldorf.
Did I cry?
I didn't bloody stop.
I actually felt over the time that this was a couple I knew and that I had such a desire for them to be together. I believed every single part of their love story, from when they hated each other, to when they loved each other, to the moment Chuck said "will you go to war with me?" and Blair replied "I thought you'd never ask." (it still sends shivers down my spine!)
In my previous Top 10 Favourites post, I mentioned Gossip Girl, and I also mentioned that if they didn't end up together or married I would be pretty much distraught. Slightly over the top, slightly true too. Something I really loved about the final episode was the moment they escaped from the scene of Bart Bass' death, and a song was playing called Bonnie & Clyde which is by a band called Great Northern. I genuinely found this spine tingling (no exaggeration) and my love for them at this point was just beaming and the song just made SO much sense, so much.
I managed to pull myself together for approximately 7 or 8 minutes, until the next scene where Chuck Bass, the beautiful specimen that he is, gets down on one knee, takes the ring attached to the necklace around Blair's neck, and finally asks her to marry him.
Cue a flood of tears right about, now.
If you have seen this episode then you will know that they were under great time pressure to get married before the police found out of Chucks whereabouts. At this point I was an emotional wreck. "YES - Chuck and Blair are finally getting married", "No, she can't get married in last nights clothes", "They can't get married with only Uncle Jack there? Where is Serena as chief bridesmaid?", "Blair cannot get married in that purple eye shadow and no headband" - all sorts of crazy things were revolving around my head.
The mad rush of each character prepping for their wedding was so lovely, and I loved the scene of the men running down the stairs to the wedding. The wedding ceremony itself was short and sweet but so lovely. I was so happy to finally see them together. The wedding was then hurried along by the arrival of the 'cops' with their vows transferring to "three words, 8 letters" and "one word, three letters" (which I thought was super cute, don't ask why, I have no explanation for that one!) and after years they finally became Mr and Mrs Bass.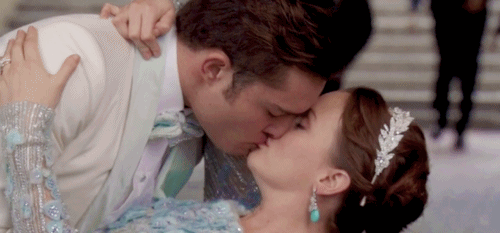 Still crying at this point, I think my glasses actually became steamy from the tears...
(p.s. Does anyone else ever get that when they wear glasses? SO annoying.)
The episode came to such a happy ending, at which this point I was probably still crying. I definitely have to say that Gossip Girl is one of the best tv shows that I have ever watched and I am SO devastated that it's all over. I also could not believe that Ed Westwick who plays Chuck Bass is British! I certainly had a jaw-drop "no, freaking, way" moment. Hearing him with a British accent made me fancy him another ten times more than I already did, if possible? If you have seen the series and enjoyed it as much as I did, please let me know what you thought and if you felt the same way as I did (although I'm sure no-one is such a emotional wreck as I was in that finale!)
Thanks for reading again, it has been so heartwarming to see so many people viewing my posts now which I NEVER expected in a million years! I hope everyone has a lovely weekend!
Lots of love,
Chelsea x
(ps.p.s - did anyone else just LOVE it when Chuck used to say... "I'm Chuck Bass.")
UGH. *insert every heart/love related emoji here*